Maheen The Globe's series of "Band of Brothers" will cover the stories of three men. Three brave Pakistani journalists. Three brave brothers. Mazhar Abbas, Azhar Abbas, and Zaffar Abbas. This series will feature their incredibly courageous personal journey in journalism. Starting off with Mazhar Abbas. Here is a snapshot on each of three brothers: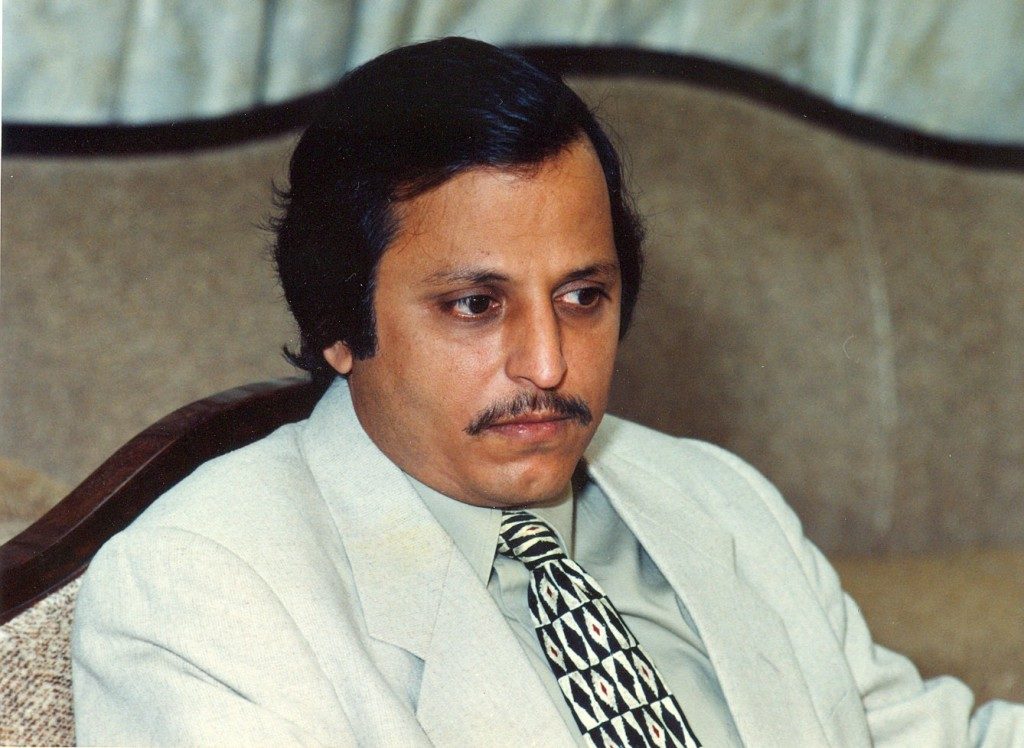 Mazhar Abbas, the senior analyst at Geo News (one of the leading independent media corporations of Pakistan) and senior columnist for The Jang Press, The News and Geo from 2013 to present. He is considered a champion of press freedom in Pakistan. In his 38-year journalism career, he has endured repeated threats as a result of his work. Read more on CPJ.
Broadcast television experience:

2011-2013: Director News and Current Affairs, Express News.
2009-2011: Director News,

ARY News

. He was also the host of their primetime show "Do Tok".
2007-2008: Deputy Director, ARY News.
2001-2007: Karachi's Bureau Chief,

AFP

(Associated French Press) – world's oldest news/wire agency headquartered in Paris, France.

Print media experience

During the span of his career, he has written over 5000 articles, political columns and conducted interviews of all the leading politicians of Pakistan.
His work has been featured in top tier print media outlets of Pakistan: Dawn newspaper, The Herald and The Friday Times (where he worked for 10 years).

Journalism awards and accolades:

2010: He won 'freedom of the press' award by the Human Rights Society of Pakistan.
2005-2009: He was the Secretary General of Pakistan Federal Union of Journalists (PFUJ). Career highlight: He led the movement against media ban during General Pervez Musharraf emergency in 2007.
2009: He won international awards for 'professional excellence' from Missouri School of Journalism.
2007: He received awards for 'the freedom of press' from the Committee to Protect Journalists (CPJ). He was among the four recipients of New York-based media 'Watchdog'.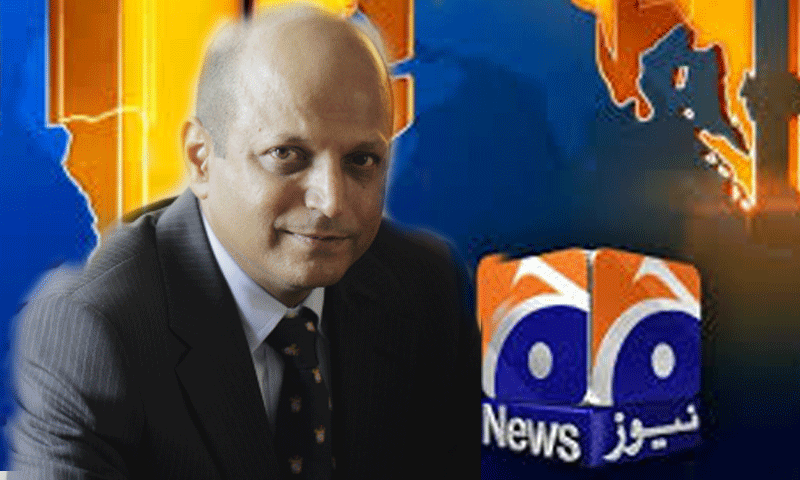 Azhar Abbas, managing director of Geo News. He started his journalism career as a reporter in The News, he then joined Herald Magazine. Later, he went to Boston University on a Fullbright Scholarship. He was the Director News and Current Affairs of Dawn News TV Channel when it was launched. Dawn News TV was the first English language channel of Pakistan, it later switched to Urdu programming. I was working at Dawn News TV around the same time as Azhar Abbas and have had the privilege to work under his brilliant leadership. He was awarded Hilal-i-Imtiaz (Crescent of Excellence) Award in 2013 by the President of Pakistan. He is a strong supporter of the journalists' community in Pakistan.
Zaffar Abbas at CPJ this year. Receiving 2019 Gwen Ifill Press Freedom Award. Source: DAWN
Zaffar Abbas, Editor, Dawn Newspaper. He has been in the field of journalism for 40 years. He was recently awarded the 2019 Gwen Ifill Press Freedom Award by the Committee to Protect Journalists (CPJ) for "extraordinary and sustained achievement in the cause of press freedom". Some of the renowned previous award winners include Alan Rusbridger, former editor-in-chief of The Guardian (2012), The Associated Press's Kathy Gannon (2015) and my superhero CNN's Christiane Amanpour (2016).
BAND OF BROTHERS – PART 1
Geo HQ visit: My encounter with Mazhar Abbas
I am in the process of reviving myself as a journalist. I have been out of practice. A little rusty. What better way to do this than to go back to the roots where it all started. To go back to where I was first recognized and appreciated as a journalist. This sudden epiphany hit me when I was in Seattle, planning my trip to Pakistan earlier this year. I had to visit my mentors and the newsroom I was a part of!
I love how Facebook, LinkedIn, Twitter and WhatsApp act as a pivotal tool in connecting people globally – former coworkers, friends and family. By far, it has been the best platform for my company, Maheen The Globe's launch. It's good for business!
I started looking up all the journalists I had worked with in the past. I started gauging where they were working currently. On July 27, 2019, on the day of the launch of my media company, Maheen The Globe, I sent the press release I wrote to all the journalists I had worked with through Facebook Messenger, LinkedIn DM and WhatsApp. The response I received was overwhelming and almost instant. I had this thriving global network of journalists that believed in my dream, my idea, my passion. It felt so surreal.
I just knew then that I had to make a trip to DawnNews TV, Geo News, ARY, Express News, Samaa, PTV. All the top tier media corporations of Pakistan to meet the brilliant journalists, producers, editors, writers, cameramen I had the privilege and honor to work with during my DawnNews TV days more than a decade ago.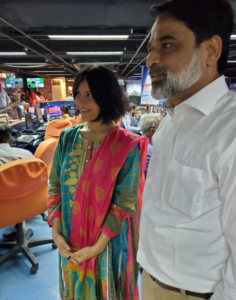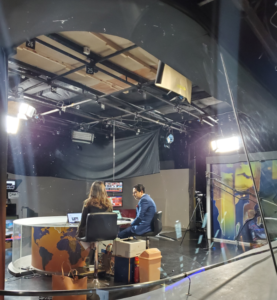 The first person I wanted to meet was MK Abbas. My former coworker at DawnNews TV. Last time I met him was a decade ago. I am at a loss of words when it comes to him. One of my greatest mentors in the field of journalism. I was so nostalgic and emotional when I met him at the Geo News headquarters in Karachi. It was fascinating to see him work the newsroom as an executive producer. He's such a pro! He's also the kindest person in this cut-throat news business. Grounded, humble, composed, even during frenzied periods of breaking news.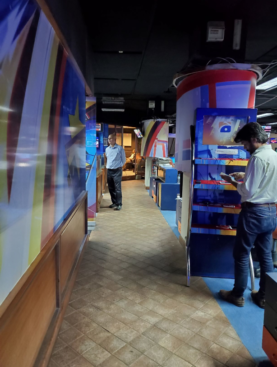 I don't have a political stance, never did. I never had a political beat during my reporting days. I always stayed away from politics. Call me a cynic but I don't believe in the system at times. Perhaps I'm too honest, too idealistic or too naïve to play the game, or get the game. Even during my earlier days of reporting I was always passionate about causes that resulted in social impact, social justice, education, health and global climate issues. But I strongly believe if you don't know about politics or have an opinion, how will you vote? And it is absolutely pivotal to vote and get your voice heard and make it count. If you want to change the system, you have to make yourself part of the system.
I wanted to meet the best journalists that I was always in awe off. The ones I always looked up to. The cream of Pakistan. The best of the best. So I met Mazhar Abbas. He is the BEST of the BEST. I was so nervous about that meeting. I hardly slept a night before, thinking how the meeting would go. And for him to take out his precious time for someone like me was truly humbling. My meeting was in the evening, but I was ready at 7:00 a.m. No joke! My dad laughed. He had never seen me this jittery. He tried to distract me with his home project that he had been working on. My father was in the army. A doctor. His tenacity has no bounds. He is a fighter. I will tell you his story one day. A book can be written on it.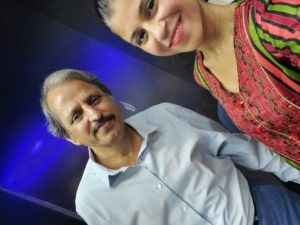 Getting back to my meeting with Mazhar Abbas. I was there early, anxiously waiting at the reception of Geo Office. The front desk folks couldn't get through to him. Perhaps it was a crazy day in the newsroom. I couldn't get through MK either. Suddenly someone walking into the building recognized me and said "You're the lady who visited MK a couple of days ago? You had a long meeting with him, and we saw you walking around the newsroom. Let me take you to him".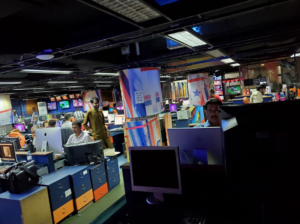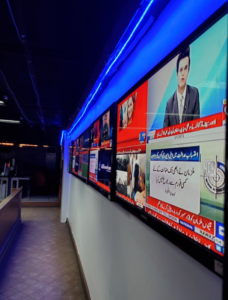 I walked over to that bustling newsroom. I love that feeling. To be in a newsroom. It feels like home. It's where I'm meant to be. Then I saw Mazhar Abbas. Man of a few words. He was sitting with MK, greeted me kindly and we went to the board room for the interview. I saw bright studio lights, and a camera set up. I froze. Mazhar Abbas politely told me to take a seat. I was so shaky, I didn't even know where I should sit. Later, I realized, the camera was set up to take Mazhar Abbas as guest on one of Geo News Prime Time show "Report Card".  The production crew was on standby. We were interrupted thrice by the production team to cut the camera to him. He had to go on air. He calmly told them "It can wait. I am in the middle of an interview". I have never felt this important in my life! Felt like a dream. I almost pinched myself. Here I have for you, the incredible Mazhar Abbas.
When did you develop interest in journalism? What inspired you?
I have been an activist since college days, even till today. I am still active in trade unions and student unions. Getting your voice heard is pivotal, hence journalism has always been my passion.
Tell us about your earlier journalism days?
You can't be a good journalist unless you have political outlook. I started my career from a Karachi-based newspaper called The Star in 1981. It was a tough time to be in media. The press was under heavy censorship in Pakistan. Information officers pulled out any news where the word "martial law" or "Zia" was mentioned or if it was against the government. You couldn't even dare to argue with those folks about the issue. Our printed and published newspapers were half blank as the stories were wiped out. Or rather we were told to wipe them off. It was a dark time in journalism. I started getting more involved with the local reporting, covering the beats: court, crime and transport as political stories were subjected to censorship.
In the later years the authorities realized this would make them look bad so they issued an advice to fill the spaces. There was too much pressure on the media at the time.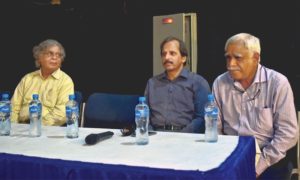 When did you step into the world of broadcast journalism?
I started my experience in broadcast journalism with ARY as Deputy Director in 2007. I was promoted to the position of Director News at ARY in 2009. I was also the host of their show "Do Tok" there. I then moved to Express News in 2011 as Director Current Affairs for a couple of years. For the past four years, I am associated with GEO News as senior analyst and am the regular columnist for GEO, The News and Jang.
Tell us about your educational background?
I did my Master's in Mass Communications from Karachi University around 1978-79. I would organize protest rallies against civil liberties in campus. As students at the time, we witnessed a journalism movement against the ban of print newspaper Daily Musawaat. Some 400 journalists were arrested, the movement became stronger and was joined by peasants and trade union workers. During that period May 13th 1978, three journalists were flogged: Nasir Zaidi, Iqbal Jaffry and Khawar Naeem Hashmi. All were taken to Lagpat Jail in Lahore. It was a rather eventful time in journalism!
What are your hobbies?
Reading newspapers first thing in the morning for two hours. I also enjoy watching cricket, movies and dramas.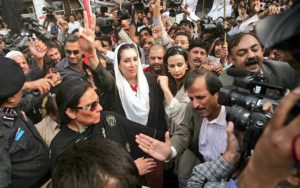 Share some of the highlights of your career as a journalist? Something that left a mark on you?
In 1981, I started covering a political case which dealt with the arrest of five to six communist leaders. It was a high profile, a world-renowned trial. For the first time in this case, Benazir Bhutto appeared. The ideology of Pakistan was at stake. Number of political leaders appeared in that case. After her detention, Benazir Bhutto appeared in many public appearances and got worldwide coverage.
In 2001, I joined AFP (Associated French Press – a wire service) as Bureau Chief in Karachi. I worked there for six years and covered many national and international stories including the abduction and murder of Wall Street Journal, correspondent Danial Pearl. I covered his murder trial. It was a tough time to be in the news.
I have seen a lot in my reporting days, arrests of Al-Qaida leaders, Khalid bin Sheeba happened around that time. Between 2001 and 2007, I witnessed the worst period of ethnic and sectarian violence in Karachi.
Did you ever receive any threats? I've heard a few stories, but I'd like to ask you directly!
In October 2007, General Pervez Musharraf had imposed emergency. I was at the Karachi Press Club with my daughter. As we left the Press Club, I saw an envelope pasted on my windscreen. I opened it and saw it was full of bullets. In two other cars I found similar envelopes. It was giving a strong message. A warning of sorts. Either that message was directed at me or some of my AFP coworkers at the time.
Two days prior to the incident, one of the wings that supports MQM issued a list of journalists who according to them were "Mahajir" chauvinist. They made that list public. My name was on that list. Many of my friends and family called to express concern and told me to get security.
My brother and I were attacked at our house by armed men in 1991 when we had reported on the activities of the Muttahida Qaumi Movement.
What's your commentary on Pakistani press?
Pakistani media is one of the most vibrant media in the Islamic world. Irrespective of censorship. Since Pakistan's independence there has been pressure on journalists and media – nowhere in the world will you find such a historic record of struggle for freedom of press and expression.
There is this remarkable element of courage in the journalists here. They go by the thought that the most courageous always goes out of their way to dig out a story, showing all sides to a story and in spreading the truth.
It's unfortunate that Pakistan's image is negative in the western media. What would you like to say to debunk that?
Pakistanis never voted for extremism. The fact, ground reality in the elections – the religious parties total number of seats have never crossed 2 to 3 percent at most. This goes to show that the majority of the country is moderate in its thinking.
Majority of Pakistanis are religious but I think it is because of the social welfare aspect of a religious party that appeals to them rather than the conservative values that the party may represent. Political faith is a different thing all together.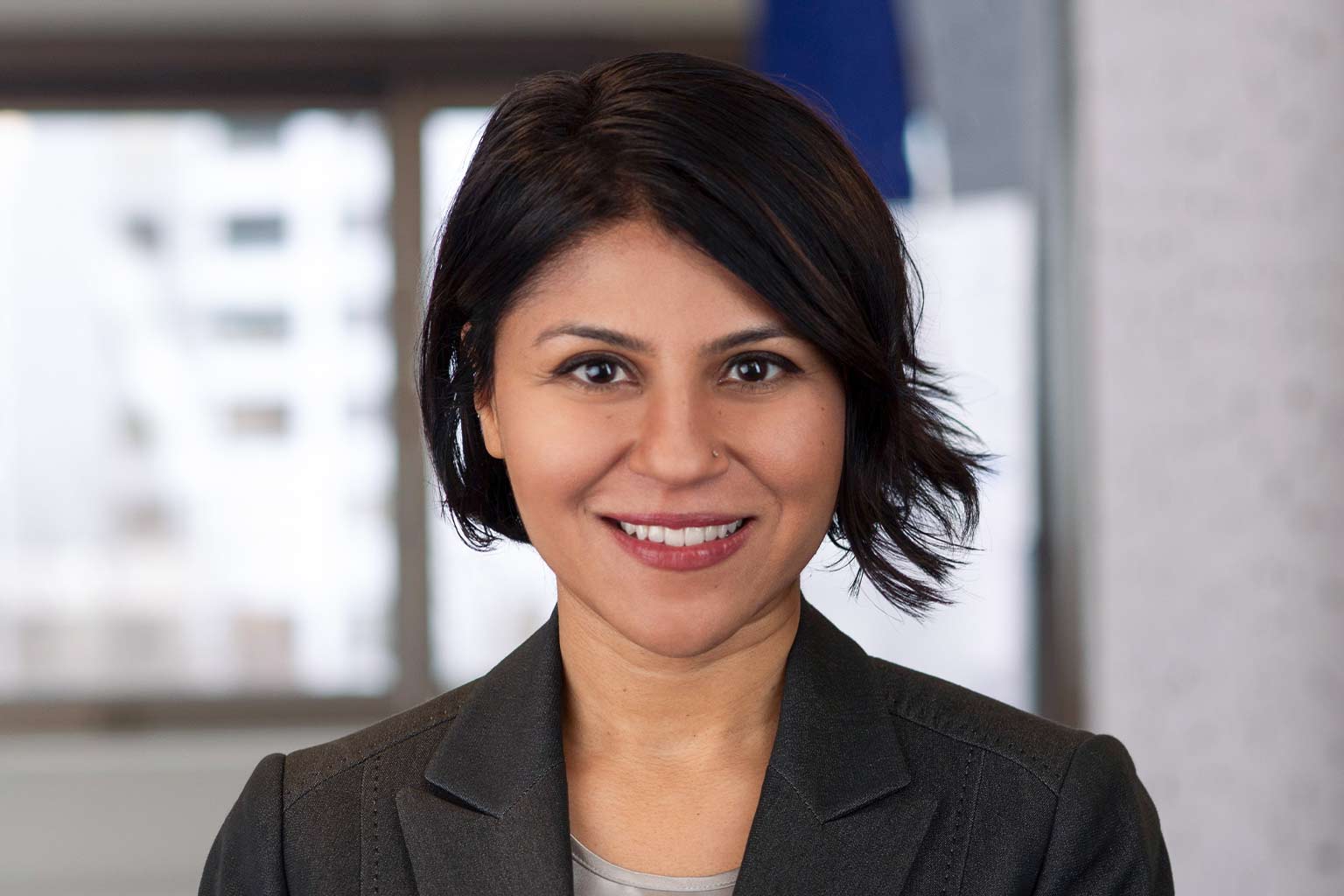 Maheen Mustafa is the founder of Maheen The Globe (MTG) a Seattle-based media outlet and independent production house covering global stories and perspectives. She covers beats social impact, wellness, business, culture, climate and race. Her email is [email protected], and Twitter handle @MaheenM_.