Dianne Elliott was my favorite dancer in Seattle with her upbeat energy, love for Usher, lipsticks, colorful headbands, and cute earrings. Our Seattle dance community misses her a ton. She recently moved to Rhode Island. I got a chance to get to know her a little better beyond just someone I danced with. What a life she's led!
"My career did not take a linear path. At 52 years old, I left Hospital Administration, formed my own art consulting company and got re-hired as an art consultant for Swedish Medical Center. I never looked back and for the next 15 years I focused on placing art as part of a healing environment in healthcare facilities in the Northwest, including Alaska."
What does dance mean to you? Tell us a little about your dance journey through the years…
As far back as I can remember, I loved dance and movement. I took beginning ballet and had photographs of well-known ballerinas on my bedroom wall. I wanted to become a dancer but of course, that was ruled out by my grandmother (who raised me) because of the "impractical" nature of becoming successful and making a living from such a profession. However, in the privacy of my bedroom, I practiced all the positions and imagined myself on stage receiving curtain calls and flowers for my masterful performance!
Dance, although not a vocation, always became my source of joy and relief from tension or frustration, especially when I was a student nurse- a profession that I had very little calling for and was socialized into pursuing as a "suitable" profession for a woman. However, dance and movement never left me and when I found myself in its presence, I felt pure elation and spiritual connection.
Martha Graham, who invented Modern Dance, called it "Blood Memory" in her autobiography of the same name. That perfectly describes the phenomenon for me- flowing out of my soul: effortlessly and lovingly. Being able to dance through the years has truly been a privilege and finding other soulmates in my various classes closed a circle of love that we all shared and felt during our movements.
What was your day job before retiring? You worked in a consultancy firm, tell us a little about that.
My career did not take a linear path. After getting my Masters in Mental Health Science, I left traditional nursing and started working in the mental health field. It helped me get more in touch with my emotional side and I truly loved the work.
I came to the Pacific Northwest from Boston to Portland, Oregon when I was appointed to the University Art Committee and began my love affair with Contemporary NW Art.
At 52 years old, I left Hospital Administration, formed my own art consulting company and got re-hired as an art consultant for Swedish Medical Center on a $90 Million construction project with an art budget of $725,000. I never looked back and for the next 15 years, I focused on placing art as part of a healing environment in healthcare facilities in the Northwest including Alaska- over $3 million dollars in acquisitions and developing a sub-specialty in site-specific commissions, of which I completed over 20 projects. The economic downturn of 2008 forced me to leave my position as Art Program Director at Swedish Medical Center but I continued as an independent consulting for Group Health Cooperative and coordinated the art acquisition for the new Polyclinic Facility in downtown Seattle until I closed my business in 2016 and re-located to Newport, Rhode Island.
How is Rhode Island? All settled in?
I loved being back in New England with all its history, wonderful architecture, and culture. I especially love Newport. There is so much to do and I have chosen to volunteer for organizations whose missions are close to my heart. I am a part of hosting the reception for The Redwood Library Lecture Series; I am a docent for the Newport Art Museum; I do volunteer gardening for The Preservation Society of Newport County, presently I am gardening at The Breakers, one of the Mansions. I volunteer and am on the Board for The Friends of the Newport Public Library and serve on another board for a historic residence in The Point neighborhood of Newport. I did volunteer at The Potter League for Animals, but due to scheduling conflicts, I had to curtail that activity. I joined the Circle of Scholars, an adult education organization, at Salve Regina University in Newport. There I re-kindled my love for writing and have taken four courses –three in Memoir and one in Fiction. I was accepted into the MFA in Creative Writing at Salve Regina University but chose not to pursue that course of action due to the high cost of tuition. I also attend the lecture series from The Newport Historical Society.
Newport has so many cultural activities that I literally have to choose which event I want to attend- often among three or four available on the same night!
Tell us a little about the foster dogs you own and what inspired you to adopt them and what was your association with them?
My love for animals is another lifelong passion- speaking and caring for those who cannot speak for themselves. Fostering an animal in my home helps get them out of the stressful situation of the shelter and helps socialize them to become more eligible for adoption. Of course, having a foster dog also puts me at risk for "Failing Foster 101," which means that I end up adopting the foster. That happened twice with Marvin and my current dog Sparky, who flew across the country with me.
Who are your dance influences?
I love any music that is upbeat and positive- like Usher- yes still!-  and Rihanna or Taylor Swift or any Motown classics like Marvin Gaye and Tammy Turrell or The Supremes.
What kind of music do you love dancing to?
Anything upbeat that gets my feet dancing and my hips moving!
What's your secret sauce for looking this good? Spill the beans!
I have no secret. I haven't lived a "traditional" life: I changed careers three times; I've never married or had children, but I have "followed my heart" and let it lead me where it needed to go. No age will be revealed except that I am over 65.
We miss you in Seattle! What do you miss the most about the city?
I miss you especially and our fellow dancers from SAC and Nicole and Darlene's classes! What special times we had!  I remember the Flash Mob for Break the Chain, which we did in Westlake Center to raise awareness about violence against women.
What's your favorite travel destination outside of the U.S. and why? You once mentioned your love for Rome…
Rome was my home in another life; I mean that seriously. Every time I go there I feel like I am "coming home".  My heart lives there.
What are your favorite food/drink spots in Seattle that you miss?
I miss the Market: Etta's, The Pink Door and Place Pigalle plus Volunteer Park Café and so many cool spots on Cap Hill.
Describe the food scene in Rhode Island. Any favorite spots yet?
Newport has a very lively and sophisticated food scene; I live in the most wonderful location so I can walk almost anywhere. I can walk down the block to The Chanler Hotel on The Cliff Walk, and sit on the terrace or lawn and look at the Ocean and Easton's Beach. I can walk up to Bellevue Avenue and go to Pasta Beach, a lively and great Italian restaurant or down Bellevue Avenue and go to the Top of The Viking Hotel and see the spectacular view of Newport Harbor. I also love The Inn at Castle Hill with its spectacular view of Newport Harbor and the Newport Pell Bridge. I could go on and on…
Do you cook? If yes, what are your top 3 dishes?
I am mainly a vegetarian but do eat the wonderful seafood and fish that abounds in New England. I love to sauté fresh veggies- mushrooms-many different varieties-, scallions, fiddlehead ferns, broccoli, etc., and then grill some swordfish, salmon, or tuna and place it on a bed of arugula with the veggies on top.
Just good olive oil and freshly squeezed lemon complete the dish.
I will also make that kind of sauce for pasta and throw the arugula on top!
Tell us how has it been being a small business owner/independent consultant in Seattle.
I was born to work for myself as I am such an independent person, but it took me a while to figure out that truism! I loved having my own company and the only low was my first year when I "forgot" to put money aside for taxes. I had always been an employee and never had to deal with that aspect of income tax!
That oversight forced an emergency sale of some of my art collection and I was glad I had that option. Needless to recount, I learned my lesson from that oversight.
Any motivational quotes you'd like to share?
I just love Martha Graham's revelation on how modern dance differs from ballet: in ballet, you rise to fall; in modern dance, we fall to rise!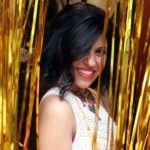 Maheen Mustafa is the writer of this article. She is the CEO/Founder, Editor-in-Chief and Senior Writer of Maheen The Globe (MTG) a Seattle-based, independent media outlet covering global stories and perspectives. Whatever rings global, we're on it! Maheen covers social impact, education, health, fashion, culture, business and music on MTG. Her Twitter handle: @MaheenM_
Dianne, Dianne , Dianne , Dianne, Dianne,Dianne, Dianne