Global fitness instructor Ramya's fearless spirit and her mad energy is infectious!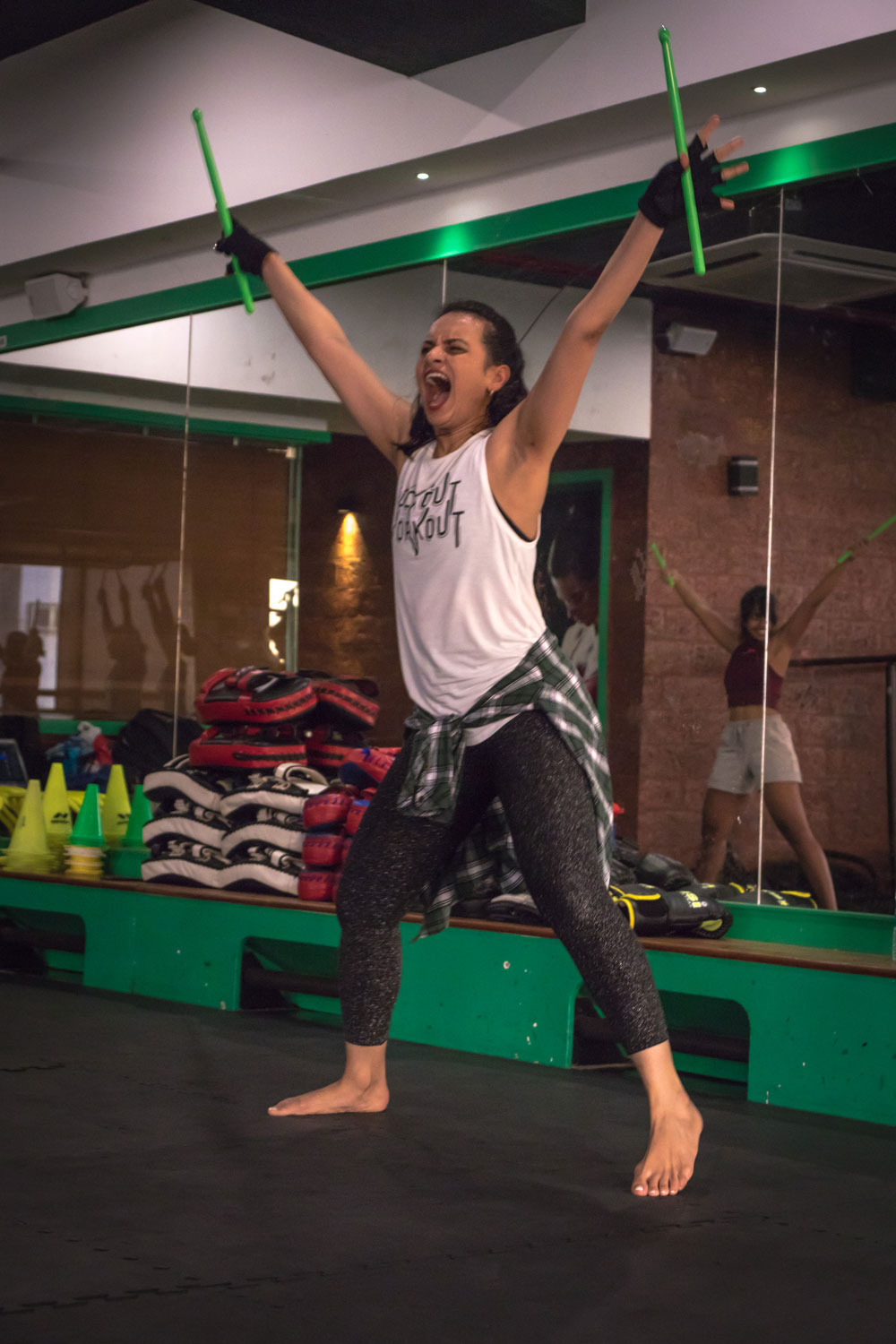 Ramya and I have known each other for almost six years now. We both took Zumba Fitness classes with Darlene Mate and Nicole Ellis at the Seattle Athletic Club downtown. Ramya's energy always stood out during the dance sessions. It was infectious, fearless and unbreakable. She is such an inspiration. Particularly her weight loss journey and her becoming an instructor from a student. We got along well because of our love for food, travel and all things fitness! Her global experience in fitness teaching is phenomenal – from Napa to Houston to now India! She was born in India and raised in Dubai.I got a chance to catch up with her, she shared some exciting news! She is India's first official POUND® Tour Crew Member. POUND® Tour Crew is a team of global Brand ambassadors that help spread the POUND® love in their communities. Read more about her inspirational journey below.
What inspired you to become a POUND® PRO? Tell us a little about POUND® and your POUND® classes.
I entered the Fitness Industry in 2012. I worked with an amazing Martial Arts Coach in Seattle for two years and earned my Blackbelt in 2014. I was seriously considering becoming a Martial Arts Coach but a happy accident happened when I experienced my first Zumba® class. I loved the format so much that I became a Zumba® instructor after I moved to Houston. I traveled and taught Zumba® in a few countries. Somewhere deep down though, I was still longing for something more challenging, maybe even rebellious. When I attended my first POUND® class, I remember feeling like a BADASS rockstar. I became a POUND PRO in 2017. I have taught POUND® as well as GENERATION POUND® in Napa, California for a year and a half. In April of this year, I did a mini Asia Tour and taught Pound® in India as well as Sri Lanka. POUND® is the world's first cardio jam session inspired by the sweat dripping fun of playing the drums. With each strike we break barriers and unleash our inner rockstar. It's not a workout. It's a ROCKOUT WORKOUT. It's a fitness concert where everyone bands together as movement musicians and  fitness rebels. We use Ripstix® which are lightly weighed exercise drumsticks that allow us to tune into the music and movement. GENERATION POUND® is a youth-oriented program where kids get to move, play and of course ROCK. I love watching the kids become confident about themselves, embracing their creativity and improving their teamwork skills.
Are you now relocating to India?
Yes! I am an official POUND® Tour Crew member and I will be serving as an extension of POUND HQ to promote the brand in India. I feel very grateful for the opportunity to work with all the amazingly talented POUND® PROs in India. The community spirit is incredible and it is truly an honor for me to serve in my home country by doing what I love the most – MAKING NOISE and spreading the POUND LOVE wherever I go!
What's your secret sauce for looking this good! You give me fitness goals! Spill the beans!
If I tell you, it wouldn't be a secret anymore! Just kidding! I am turning thirty-six in September and I'll say it is high maintenance with each passing year. I am not blessed with genes that allow me to eat whatever and stay lean. I believe in mindful eating and controlling the portions of food that I enjoy. I try to eat clean and healthy most of the week and indulge guilt-free over the weekends. But with all the constant traveling for work as well as family gatherings, I do go off track sometimes. And that's why it's so important for me to get my regular workouts. The rehearsals for my POUND® classes are pretty intense. I rehearse for at least two hours twice or thrice a week. And then of course I have to give 500% of my energy to my participants when I perform as an instructor in class. Strong is the new skinny! POUND® has made me stronger especially in my shoulders, abdominals and lower back. All those countless squats and lunges in POUND® that get disguised with the fun of drumming and making music actually make me want to take the stairs instead of the elevator. I think functional training is so important to maintain healthy joints and muscles as we get older.
Tell us a little about your background. Were you born and raised in India? Tell us a little about the food and culture there and what you miss the most.
I was born in India and raised in the United Arab Emirates. I spent my entire childhood in Dubai before moving back to India for my high school and college education. I think I could write a book about the food in India. Every State has its own taste, its own cuisine. I am South Indian so I really miss home-made Idli, Dosa, Sambar, Rasam, Rice and Sheera. Since I was raised in Dubai, I am also a huge fan of middle-eastern food – hummus, falafel and baklava. As far as the general culture goes, I feel so much has changed in India and the United Arab Emirates over the years. I was born in the 80s and it is now 2019. I visited both countries recently after a huge gap of years and I must say I am very impressed by many of the positive developments. One thing that I have always loved about Indian culture is the close connection of family and friends and the fact that music, dance and food is an integral part of every life celebration and festival. I am glad that hasn't changed.
I can tell by your Instagram feed that you love to travel. What are your favorite travel spots?
Prague, Lisbon, Morocco, Hawaii and Cartagena are some of my favorite holiday destinations.
What are your favorite food/drink spots in Seattle that you miss the most?
I really miss Le Panier at Pike Place Market. Amazing coffee and macarons. The raspberry and apricot croissants are to die for!
What inspires you and motivates you to go to work every day?
As someone once said "Choose a Job You Love, and You Will Never Have To Work a Day in Your Life" I truly believe we must love what we do and do what we love. I love putting a smile on someone's face and I love inspiring people to inspire others. The moment you walk into a POUND® class, you will immediately notice the energy and human connection is indescribable. It's magical. I get the best sleep at night knowing that I might have turned someone's bad day into a great day. POUND® is therapy for me too!
Any nice motivation quotes you'd like to share?
"The Only Thing We Have to Fear Is Fear Itself" – Franklin D. Roosevelt