Robyn's hair and dance flair coloring Seattle grays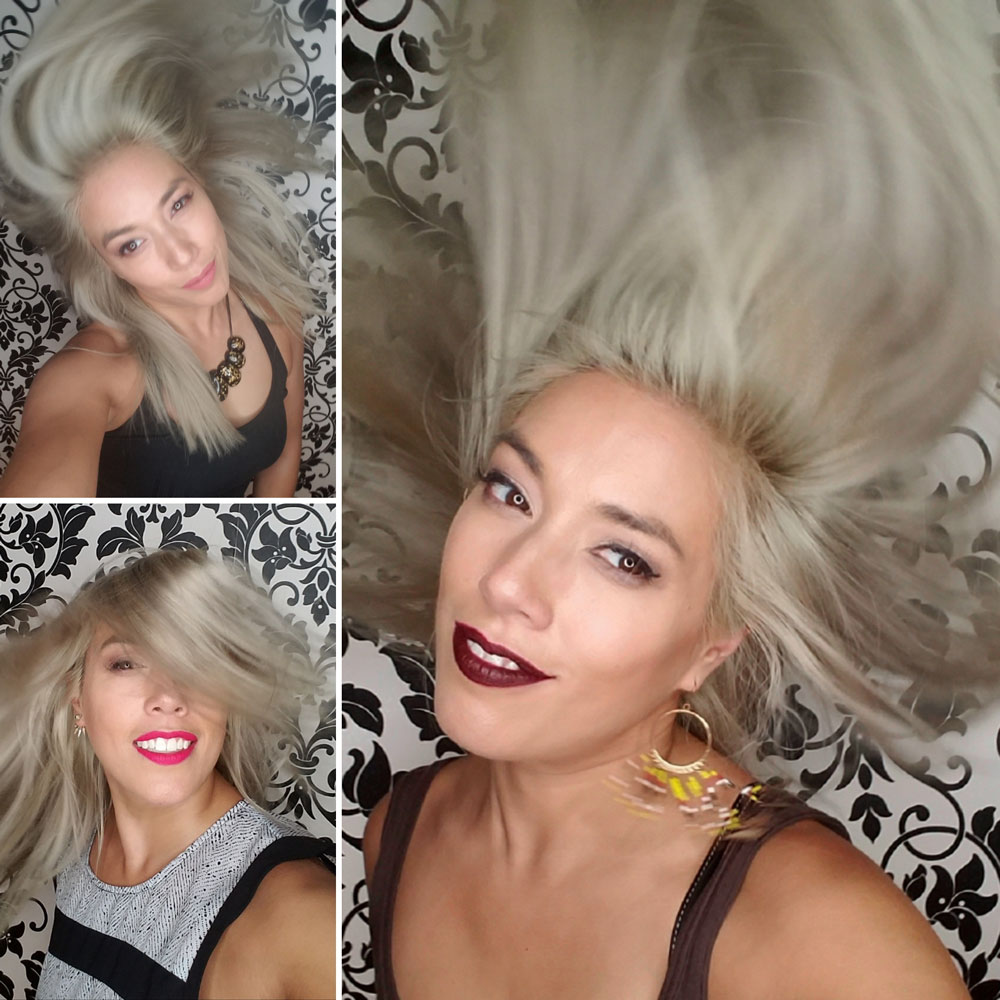 Robyn and I got introduced at the Seattle Athletic Club downtown around six years ago. What did I look forward to the most every time I would meet her? Her changing hair color and texture! I call her my unicorn friend. Her hairstyles and colors have always been edgy, cool and bold. And more than that, her genuine, happy, warm vibes can brighten up anyone's day! Here she shares her insights on the Seattle hair fashion industry and her love for dance.
"Though cosmetology is a female driven industry I naively thought that meant it was female dominated as well. Men still set the trends. There are a lot more male celebrity stylists than female, and clients seem to rank the salon hierarchy from top to bottom: straight male, gay male, woman. Seriously, what's up with that!?" Robyn Holmes, Hair Stylist at SET Salon
When did you decide to be a hair artist? How did you know it was your true calling?
I grew up training classical ballet, so I was always steeped in theater hair and makeup. In primary school I fell in love with hair, makeup, and beauty through fashion magazines, then by high school, college I was doing hair for friends. After graduation I applied for Environmental Science degree to my plant ecology work at Department of Natural Resources, but instead of focusing on postgraduate studies I spent my time on my favorite hobby – hair and makeup. Instead of graduate school, I decided to do what I do for fun and for a living and attend beauty school instead!
I personally love effortless lived-in looking hair, which is why as far as color goes, I prefer the look of balayage, which is strategically painted on to emulate natural sun-kissed locks. Paired with a root-smudge or naturally grown out roots and you're living the low maintenance life!
On the other hand, I love an all-over bleach and tone (the highest maintenance color), from platinum to fashion hues- I can't seem to get enough pastel pink these days (still love this paired with a grown-out root though)!
When designing a haircut I look at bone structure to create the most flattering lines and custom shapes. I'm having a blunt-ends moment (everyone is leaving my chair with blunt ends whether they want it or not!) but still create swing and movement within the interior of the haircut through various texturizing techniques.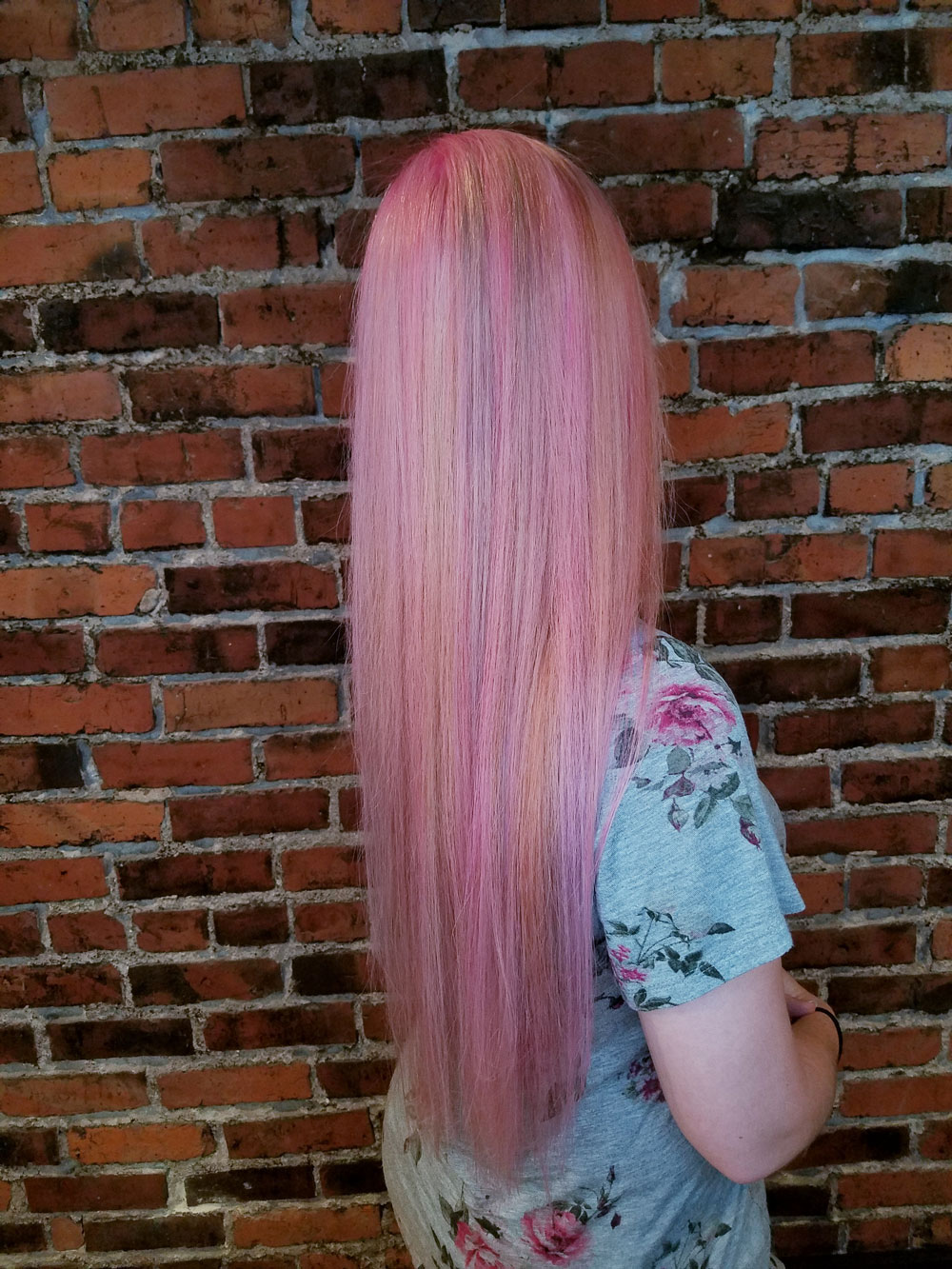 Describe your hair painting, cutting, balayage journey and which process do you enjoy the most.
Styling is my favorite, it's like the cherry on top of a great cut/color. I keep it effortless looking.  I give all my clients lessons on how to recreate their "salon styles" at home. What's the point of a great cut/color if you don't know what to do with it?
Stylists and their clients have a very special, intimate and emotional bond. Tell us more about that.
I'm pretty sure a few of my clients don't like my work, but they LOVE me so they keep returning. Jokes apart, it has to be a good fit between the client and stylist for a constructive relationship and creative journey to move forward. If I love it and they don't or vice versa it's not a good fit. When we both love it, that's when we really have a lot of fun with the creative process. A lot of trust is put into a stylist's hands- from the technical service on the stylist's side to all the gossip and secrets clients entrust with us.
Elaborate on what you do? (for example hair cut, color, styling, ramp model grooming)
Early in my career while I was still building my clientele and had more free time, I focused on editorial photoshoots, fashion and hair shows. I loved the energy, edginess and creativity, along with the mentoring from some of the top industry pros. I'm happy to bring these elements into the salon to share with my clients. Now with a bustling clientele, I focus on continuing education- staying current with the latest trends and techniques through classes, workshops and hair shows.
You currently work at Aveda? Tell us why you love it.
I trained with Aveda and love the network I built through the brand. I'm currently using Davines, a sustainable fashion forward line out of Italy. I stand by this line that fuses the Presidio slow food movement utilizing centuries-old local farms, with technology from their famed local textile industry. It's good stuff.
What has been the most challenging work that you've done in the hair business. Also, is it tough being a woman in the hair industry? Describe some of the challenges you faced.
My biggest challenge within the hair industry was when I first started building my business. I had great mentors for the artistry side, but not the business side of cosmetology. And let's be real, beauty school merely preps students to pass state board licensing exams, hence why the aforementioned continuing ed is SO important in this industry. Lucky for me, I have amazing friends across many disciplines including marketing, sales, accounting, legal who throughout. It takes a village.
Though cosmetology is a female driven industry I naively thought that meant it was female dominated as well. Men still set the trends. There are a lot more male celebrity stylists than female, and clients seem to rank the salon hierarchy from top to bottom: straight male, gay male, woman. Seriously, what's up with that!?
Share some of the exciting projects you've worked on and are proud of.
I'm proud to say I've built up my business enough that I'm consistently booked weeks if not months ahead of time. I enjoy being busy doing what I love to do! I have some big plans in store. Under wraps for now.
We all at dance class LOVE seeing all the hair colors you experiment with.
I've always joked that hair dressers are like the shoemaker whose children have no shoes. I am not only president of loving "lived in looking hair," I'm also a subscriber. When grown out roots are no longer trending, I'm screwed! Recently I decided that with all my new grey growing in I'm just sticking with a platinum base & throwing in funky color as I feel it.
What are some of your inspirations for the colors you choose?
My current inspiration across multi-facets of my life not only hair, draws from my obsession with K-pop: the sum of music, culture, dance, fashion, hair and makeup, expertly smooshed into one adorable highly consumable package. I just need to live my K-pop fantasy through their incredible styles, head to toe!
I absolutely love dancing with you, you're an amazing dancer. When did you start dancing and why do you love it?
Thank you! Much like hair/makeup I absolutely love the expressiveness of dance. I trained classical ballet for over fifteen years starting when I was three and-a-half. My parents pretty much forced me to do it otherwise I had to pick a sport. I wanted to play hockey, but they thought co-ed leagues were too rough, so I stuck with dancing. Primarily ballet with modern, jazz and tap sprinkled in. I didn't actually fall in love with dancing until high school and I stayed with it while also joining my high school's first women's hockey team (much to the chagrin of my ballet teacher concerned with adding potential hockey injuries on top of potential dance injuries before recital season). College didn't have a great dance program, so I joined their Kung Fu team- a great way of combining my dance and hockey training. Those years were the longest break I've had yet from dance or dance fitness classes. Luckily after moving to Seattle I found great dance studios, my favorite being Studio206, where I've found my dance family. Such a great community. I love getting silly on and off the dance floor with this fun group! I'll admit I'm not entirely in touch with my feelings – I've legit been told I'm an emotionless black hole – for real – so I think dance is my outlet for all that. Performing by tapping into otherwise stifled emotions through dance is my way of connecting my mind, body and soul. How many countless yoga sessions have I been to where my mind just reels off during the meditation bit? Too many! Dance is my therapy. After writing this out it sounds like I could use some actual therapy.