Omran Shafique talks Coke Studio
Maheen The Globe connected with Omran Shafique, house band guitarist of Coke Studio. Omran Shafique knows Coke Studio inside out. He has worked on the show under all the three producers Rohail Hyatt, Strings and Ali Hamza.  Along with this, he also has a brilliant project Chand Tara Orchestra and now is making a comeback with his quirky, cool band Mauj. Details below!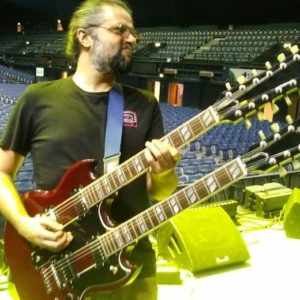 His musical background and influences:
Growing up on a steady diet of 70's Bollywood filmi songs and classic heavy rock acts such as Black Sabbath and Led Zeppelin, Omran developed a love for music that takes risks early on.
On the tiny island of Bahrain in the Middle East, his obsession for rock music took hold as he feverishly collected albums, concert footage, and magazines related to the genre. The seminal moment being the guitar solo in the Guns N Roses song 'Sweet Child O Mine'; he knew he had to learn how to play the guitar.
Through the years he delved into the many genres of popular music, from extreme metal to funk and rhythm and blues. After spending years honing his craft, first in Bahrain, then in Texas, Omran moved back to Pakistan to pursue music full-time. Once back he made a name for himself in Pakistan. First with his band "Mauj" and later as permanent house band member for the phenomenal Coke Studio. Mauj's singles "Paheliyan" and "Khushfehmi" received critical acclaim. Later the band Mauj album 'Now in Technicolor' made waves across Pakistan and India and gave people music that was fresh, creative and honest. He is considered creative, artistic, versatile and unique by many in the Pakistani music industry.
Describe your musical journey in Coke Studio, and how it has evolved you as a musician?
I've always had a creative personality so I'm attracted to all sorts of creative endeavors. Music just so happens to be the creative art form I spent the most 'hours' working on, so it is the easiest way for me to express myself. Additionally, I'm obsessed with exploring all the nuances and subtleties involved in the art form, so I always relish a chance to dig deeper.  Coke Studio has always been a platform for me to dig deeper into South Asian music. Even though I have grown up around South Asian music, being primarily a blues-based guitar player every season of Coke Studio has uncovered intricacies that gives me greater appreciation and understanding of it.
What are your most memorable performances in Coke Studio?
Over eleven seasons, around three hundred songs, there are too many highlights for me to mention, but Tina Sani's Mori Araj Suno has been a perennial favorite.  Guitar wise, the jazzy cover of "Ae Dil Kissi Ki Yaad Main" by Ali Zafar/Sara Haider has some fun guitar playing.  Also Season 11 has some of my personal favorite guitar playing in Ali Azmat/Riaz Qadri's "Tere Liye".
Tell us about your latest project/collab with Junoon in their current US tour.
In the upcoming months, I am excited to be a part of the Junoon come back tour.  It's a dream come true. Watching Junoon live for the first time was a seminal moment for me, so being on stage with my heroes is a bucket-list moment for me.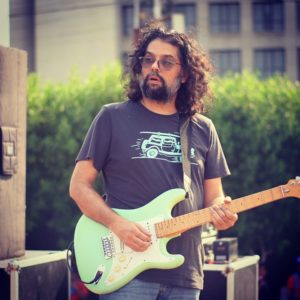 Tell us about your personal projects
My band "Chand Sitara Orchestra" will be releasing a few new songs throughout the year, as we also gear up for another album as well.
I am also working on a documentary score, and some OSTs for TVs. Along with that, I've been producing songs for various local artists. All this keeps me super-busy, super grateful that I get to do what I love all day long!