'Tamaasha' shook the stage of Pepsi Battle of the Bands with their alternative rock vibes and Seattle grunge/rock sound. Maheen The Globe caught up with them. Here they talk about their latest projects, particularly their new single 'Paisa Phenk'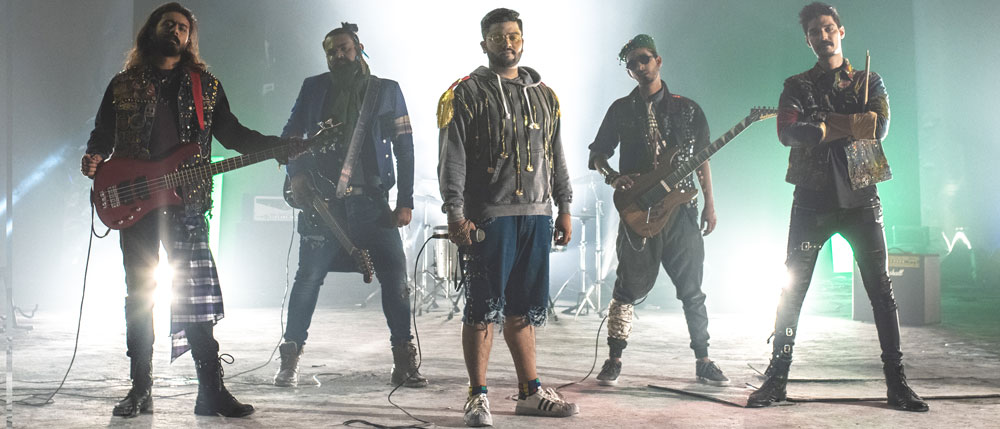 Tell us a little about your musical journey on Pepsi Battle of the Bands?
In nearly every way, season 3 of the Pepsi Battle of the Bands was our ticket to reaching the massive public, as well as show the world what "Tamaasha" is all about. We auditioned with confidence, and came out better knowing ourselves as a band and as one, musical unit. Auditioning with Aaroh's 'Raag Neela' met us with our first standing ovation, after which followed our second and third with Junoon's 'Sajna' and our original 'Roshni'. We finished third in a competition that we never thought would understand us, and that made all the difference!
What made you all audition? 
Auditioning was a very hasty decision we made after branding ourselves "Tamaasha". The response to a platform that made bands accessible to the Pakistani public is really what coaxed us; brothers from Kashmir got the limelight they deserved, and we felt that we could actually do some justice with our act to the Pakistani music scene through Pepsi Battle of the Bands.
Who are your musical influences?
Our biggest strength as a band lies in the diversity of approach. Fundamentally, the band has been influenced by age-old rock and alternative acts like Junoon, Mauj, Soundgarden, Audioslave, Rage Against The Machine, Red Hot Chili Peppers, and many others that fall in similar genre. Band members, individually, have influences ranging from metalcore, nu-funk, jazz and punk rock.
I'm based in Seattle, so I have to talk about the grunge movement in Seattle and the awesome music that came out of here – some examples – Alice in Chains, Nirvana, Pearl Jam. Did you guys listen to these bands growing up? Share with me what you think of the Seattle music scene, back then and now. Would be curious to hear your perspective.
It just so happens that our vocalist, Bilal, is heavily influenced and shaped by grunge vocalists like Eddie Vedder and Chris Cornell. The grunge movement itself gave birth to many of our influences; so much so that the style of Bilal's singing often conflicted with the crowd with an Eastern affinity. The twang and grit of those vocals and that texture did not marry well with Urdu lyrics in the public opinion, which led to a lot of de-learning for Bilal to better fit the right vocal space to justify his own style. Something that would please the listening ear as well. So yes, it is no secret how BIG of a role the Seattle Grunge movement has played in shaping the band's sound.
Please share brief bios of each band member, with names and the instruments they play.
Bilal Ahmad: The vocalist, a pop-culture enthusiast that absorbs everything from anime to music to theatre, and tries his best to add to the history of it, and shape the strategy of the band itself.
Zahid Qureshi: The multi-instrumentalist and backing vocalist, a virtuoso when it comes to composition, song-writing and instrumentation, who aims to play a part in shaping the musical landscape of the future.
Anas Lutfi: The lead-guitarist, who with his shrewd mind and thorough approach, translates the very same in music and in real-life, being the strategic anchor for the band.
Ali Raza: The bassist, a filmmaker and a director, hoping to share his stories with the world and becoming the anchor to an energetic cool that the band is so well known for.
Hyder Ali: The drummer, an artist and an illustrator who imagines a concept, and then executes it with discipline and creativity, both in his work and his music.
Tell us about your projects since Pepsi Battle of the Bands. Elaborate on some of the new music you all are working on.
After Pepsi Battle of the Bands, the band has been on a roller-coaster ride of live performances, performing throughout Pakistan, opening and headlining big concerts, and even going as far as to open for the legendary Sufi-Rock band, Junoon, in their reunion concert. With the release of our debut single, 'Paisa Phenk', we've put in motion plans to produce and release an album within the year. The album itself will be an experiment in diversity, ranging from hard-rock, to funk/blues, to ballads, to progressive rock, with songs in both Urdu and English. We're also in the process of releasing an exciting, electronic variation of our single, 'Roshni'. All in all, pretty exciting stuff on the way, but we won't lie when we say that we're going with the flow.
When did you conceive the idea of "Paisa Phenk". What was the thought process behind it? Are you planning on releasing an album. When is the release date? 
We always knew that our first song will be called 'Paisa Phenk'; as the saying goes, "Paisa Phenk, Tamaasha Dekh". Everything felt right with it. While making the song, we realized that the song itself had the potential to start a movement that is a very personal affair for nearly every artist in Pakistan, if not across the globe. The #PaisaPhenk movement gathers artists of all forms and kinds; musicians, writers, painters, designers, photographers, freelancers, dancers, and basically anyone who sells their artform for a living. Standing together, these artists are demanding respect for the artist community, adequate compensation of services, and saying no when asked to work for 'exposure'.
Who made the video of "Paisa Phenk" and who did the set, costumes, video direction etc. Fill us in!
'Paisa Phenk' was made by a dedicated family of filmmakers, artists and sound engineers, banding together to execute a project unlike Pakistan has ever seen. Produced by Shahriyar Ali Soomro of Goreella Films, directed by Zaeem Asad, and shot by Noor Muhammad Turk, the video for 'Paisa Phenk' was always meant to be over-the-top, mixing a fast, vibrant pace, with slow-motion cinematography. Syed Sajjad and Kuliyat Masroor assisted the direction of the video, while Ovais Burney was the Art Director for it, bringing to life what, in our mind's eye, was a 'grungy rainbow'. Sarah Vohra led the creation of the wardrobe and costumes for the music video, which was meant to be as flashy as it shows. The track itself was recorded, mixed and mastered at A for Aleph, a top-notch recording facility run by Umair Dar, with our producer and engineer being the amazing Adeel Tahir.
What are your comments on the current pop/rock music scene in Pakistan?
It's been a long, long while since band culture gained the traction it deserved in Pakistan, and Pepsi Battle of the Bands is, in most parts, the only entity that is trying to revive it. In doing so, many genres of music are getting the limelight they deserve, and have become staple listening. Of course, there will always be a gap between Western audiences and ours because of the lack of proper monetization and streaming option that exist locally, but the wave of music and of acts that are emerging from this area of the subcontinent may actually catch international attention.
Are you guys planning to do any concerts in Pakistan or abroad? Tell us about your upcoming projects.
In no way or form do we have the means to PLAN an international performance; we'll simply be there to perform if someone calls us. The case locally is different, and we're looking forward to the upcoming concert season to pull-off some electric shows. We are a Tamaasha after all.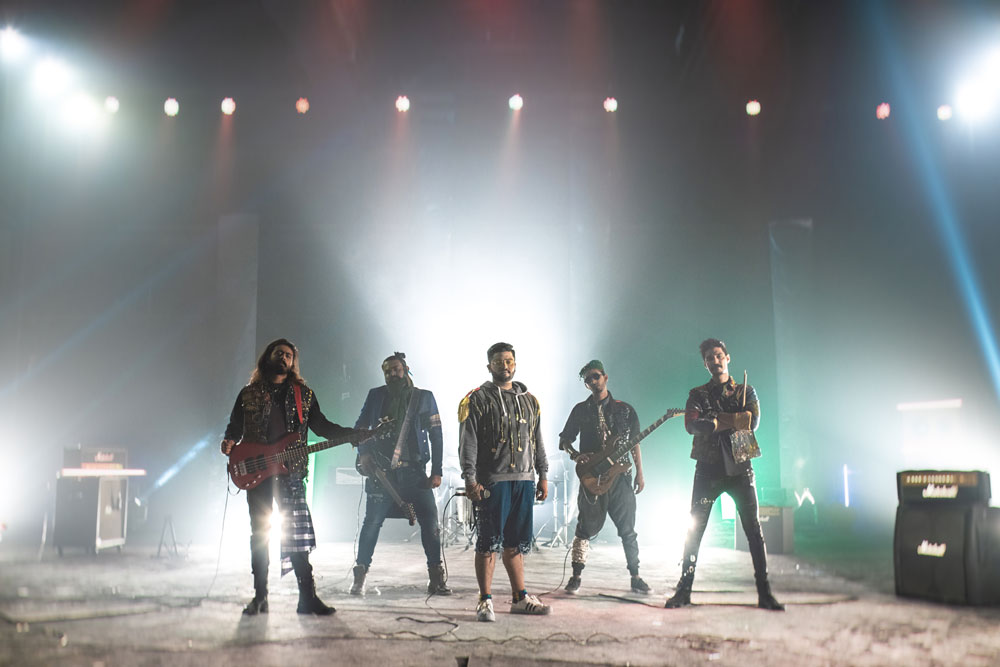 Any message for your fans out there. Any advice or tips for aspiring musicians and bands in Pakistan?
Work hard.
Never give up.
Never compromise.
Never settle for mediocrity.
Push yourselves.
The following social media and smartlinks for the band's channels and 'Paisa Phenk':
Facebook: http://bit.ly/TamaashaFB
YouTube: http://bit.ly/TamaashaYT
Instagram: http://bit.ly/TamaashaINSTA
Twitter: @TamaashaDekh
'Paisa Phenk' YouTube: https://youtu.be/ZhjJHwpNPzs
'Paisa Phenk' Streaming Links: https://ampl.ink/7arxw
'Paisa Phenk' Genius Lyrics: https://genius.com/Tamaasha-paisa-phenk-lyrics
Maheen Mustafa is the Editor-in-chief/Founder of Maheen The Globe

which is a Seattle–based, independent, woman-owned news media outlet and online magazine covering the following beats: Food, travel, coffee, health, education, business, art, sport, film, fashion, music, dance. It will also contain special features/editorials/interviews of celebrities, top influencers, women-led small businesses with a special focus on immigrants and moms. Regions covered: Local neighborhoods (Fremont, Ballard, Seattle downtown, West Seattle, So-Do), State-wide (Washington), Nationwide (USA), Pakistan and global. #globalperspective
Follow Maheen on:
Tamaasha