Soul Circus Band – Seattle-based Indo-Pak Band
Did I ever mention I was a vocalist in a girls band back in LUMS (Lahore University of Management Sciences)? It was all the way back in 2004. I sang quite a few covers back then. "Na re na" by Junoon, "Aitebar" by Vital Signs, "Rahguzar" by EP, "Waqt" by EP, "Neend aati nahi" by Junoon. And so many more. When I first moved to Seattle about seven years ago, I started looking for Desi/Pakistani/Indo-pak/South Asian bands that I could jam Pakistani songs with. There were none. Recently, I was introduced to Soul Circus Band. Their band members are from both Pakistani and Indian background. Tech geeks during daytime, some of the members work for Microsoft and Amazon; and musicians by the evening.  I found that interesting and super rare in Seattle. I got a chance to connect with them for a short interview, here they filled me in on Seattle Desi bands presence and their musical influences.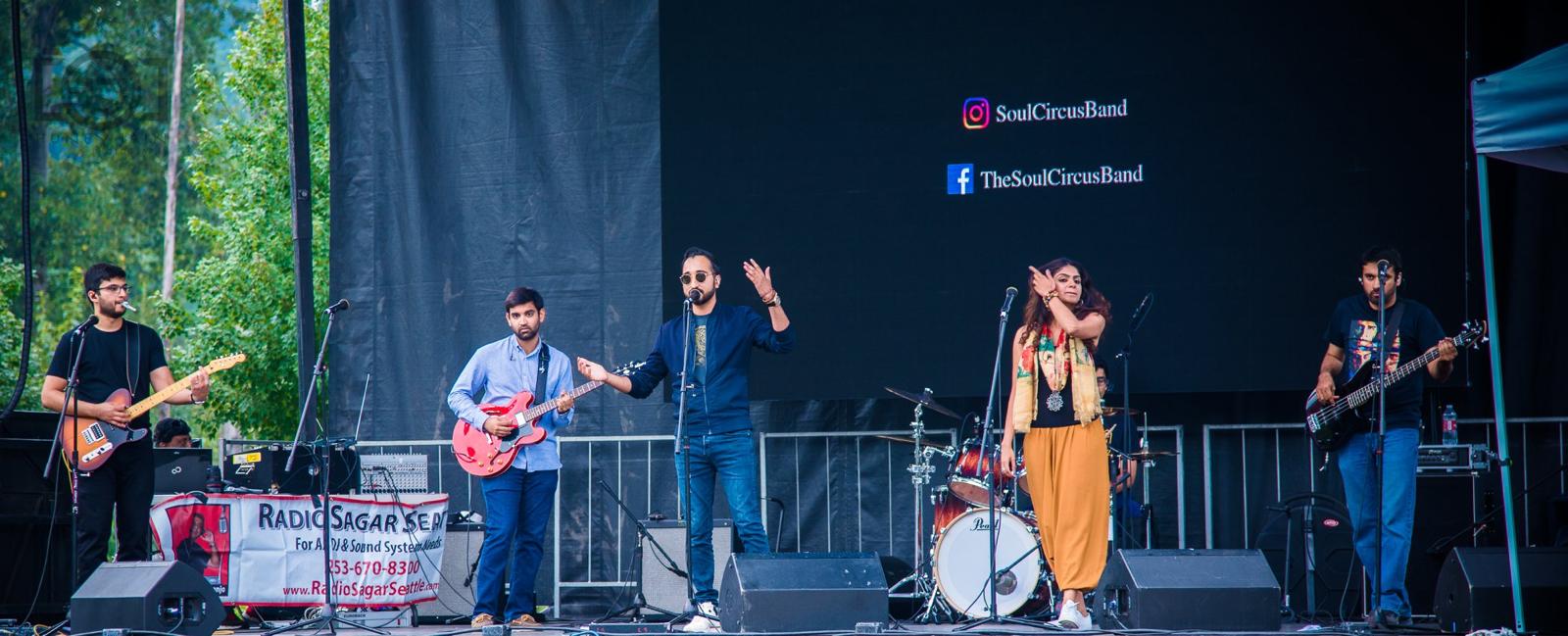 Tell us a little about your band? When did it all start?
Umar: The band started in October 2017 when two of us met at the guitar center and realized we share a passion for making music and performing at live shows. From there onwards, we added more people that became the core members.
What kind of music do you guys do? Which genre?
Umar: We're always refining our sound and exploring new genres, currently, we're very interested in pop/rock and ambient rock with some South Asian influences.
 Who are your musical influences?
Umar: Our musical influences vary since each of us have been exposed to different types of music while growing up. Some artists that really inspire us: The Beatles, Pink Floyd, Queen, The Who, Nirvana, Foo Fighters, Nusrat Fateh Ali Khan, Vital Signs, Poor Rich boy, Mekaal Hassan Band, Amir Zaki The Smiths, Metallica, Led Zeppelin and many more.
What are the Pakistani pop music covers you all have done?
Umar: We've covered songs by quite a few Pakistani artists. It's amazing to see how our own musical influences and backgrounds change the overall feel of the songs. It's our way of showing respect to senior musicians while bringing our own twist to the songs. Some songs we've covered include:
Hum Tum – Vital Signs
Jaanan Jaanan – Vital Signs
Ajj Latha Nayeeo – Javed Bashir
12 Bajay – Atif Aslam
Dastan-e-Ishq – Ali Zafar
Tell us about your line-up/band members and the instruments they play.
Umar Saeed – Vocals
Sohaib Tahir – Guitar
Nitesh Sood – Guitar
Sanchit Malhotra – Guitar
Shresht Singhal – Drums
Shehryar Ahmed – Bass
Where do you guys do gigs? Where are the venues?
Umar: We've performed at venues like the Kirkland Performance Center, Meany Center for Performing Arts (UW) and Showbox.
Is there a Pakistani pop music bands presence in Seattle? Fill us in, I'd be curious to hear.
Umar: Not that we know of, however, there are many talented Pakistani/Indian musicians in Seattle. We collaborate with them all the time.
I'm a Seattle-based journalist, so I have to talk about the grunge movement in Seattle and the awesome music that came out of here, some examples, Alice in Chains, Nirvana, Pearl Jam. Foo Fighters Did you guys listen to these bands growing up?
Umar: We are big fans of Nirvana, Alice in Chains and Foo Fighters. The music scene in Seattle is amazing, there's a lot going on as far as live shows are concerned. The grunge scene however, is dying at a gradual pace, EDM and hip-hop seem to be taking over. Music or any art form is a direct representation of the time and era it's created in. We're in the era of tech giants and large corporates bringing an influx of thousands of people whose interests vary a lot, generating demand for a more eclectic music scene.
Do you guys watch Pepsi Battle of the Bands, Nescafe Basement, Coke Studio? What are your top favorite songs?
Yes, we love all of these platforms and try to follow as much as we can. There are many favorite songs, but I'll list a few:
Saari Raat Jaga – Noori _ coke Studio
Hans Dhuni – Ustad Raees Khan – Coke Studio
Gorak Dhanda – Nescafe Basement
Na Kaho – Nescafe Basement
Yaad Tehari – Pepsi BOB
Khagaz Ka Jahaz – Kashmir – Pepsi BOB
Elaborate on some of the new music you all are working on. Where do you practice jam sessions?
Umar: We're constantly working on new covers and originals. We are currently working on a few untitled tracks that will be posted on Soundcloud soon. We rehearse at Evolution Studios in Bellevue every other week if schedules allow.
What are your comments on the current pop/rock music scene in Pakistan?
Umar: The current music scene in Pakistan especially with everything happening on social media is just amazing. Gone are the days when you were at the mercy of a record label or TV channels. Individuals have more following than hit TV shows, says a lot. There is also a very intense underground scene in major cities. We love the music Poor rich boy, wisdom salad, red blood cats and mooroo are creating.
Tell us about your upcoming projects.
Umar: We have a couple of shows lined up in the next few months and we plan on launching a few singles soon.
Are you guys inclusive to aspiring musicians/vocalists based in Seattle? If yes, how? Give some examples.
Umar: We like to stick to our core line up for most shows, but we've had guest musicians perform with us at some shows and studio sessions. We are very selective in who we invite because every new member brings their own sound.
Any advice or tips for aspiring musicians and bands emerging in Seattle. Where should they go if they want to practice playing instruments or singing?
Umar: Seattle is a great place for aspiring musicians especially with the rich history and amazing performance venues. It really depends on the level of commitment and what exactly your end goal is. The best way is to find people who share your musical interests and then find the time to play together. The only way to learn is to do. Put yourself out there on social media, sign up for free shows the feedback will tell you how to improve and grow. It's a long and sometimes exhausting journey, persistence and perseverance are key.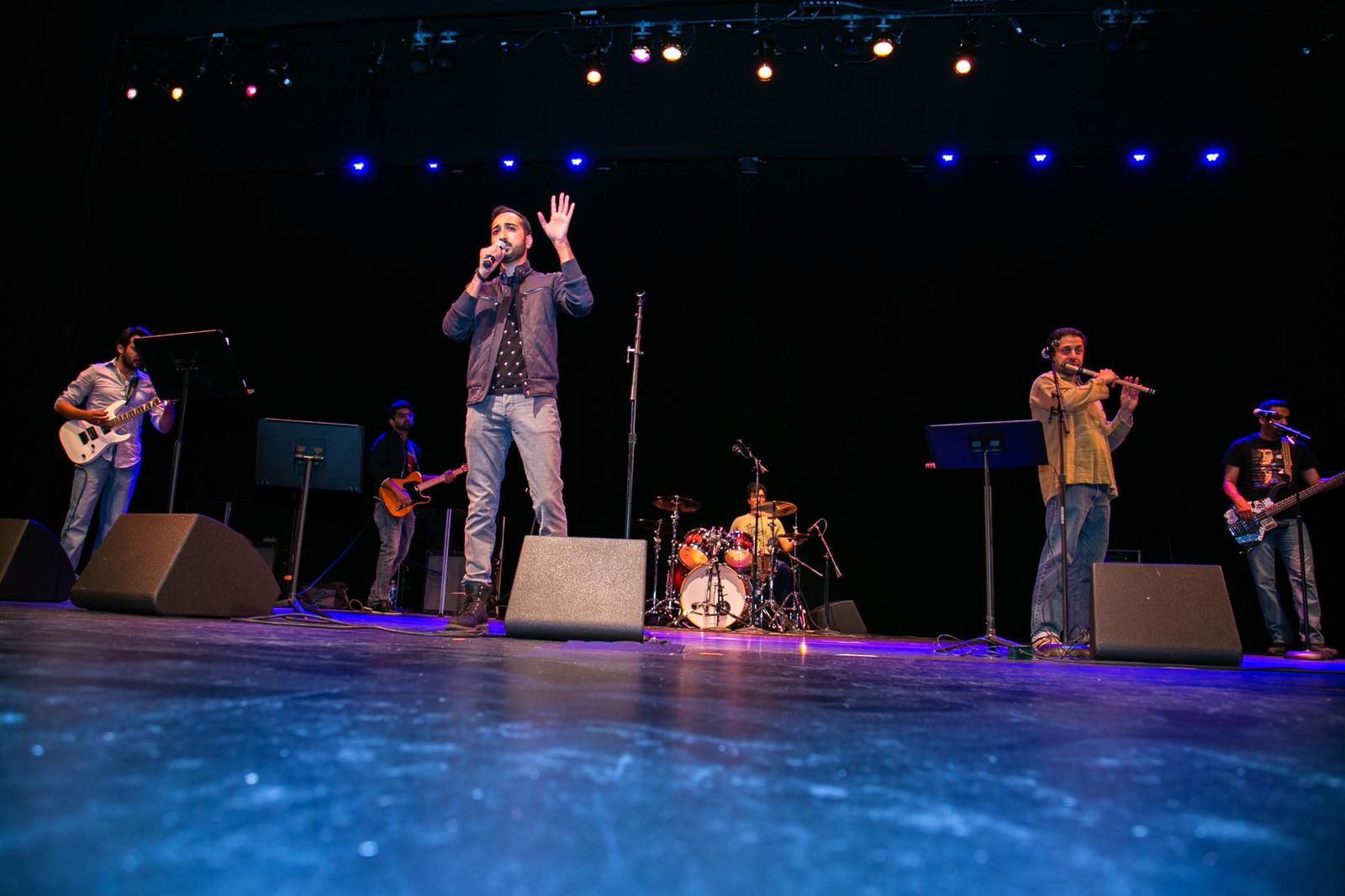 Maheen Mustafa is the Editor-in-chief/Founder of Maheen The Globe

which is a Seattle–based, independent, woman-owned news media outlet and online magazine covering the following beats: Food, travel, coffee, health, education, business, art, sport, film, fashion, music, dance. It will also contain special features/editorials/interviews of celebrities, top influencers, women-led small businesses with a special focus on immigrants and moms. Regions covered: Local neighborhoods (Fremont, Ballard, Seattle downtown, West Seattle, So-Do), State-wide (Washington), Nationwide (USA), Pakistan and global. #globalperspective
Follow Maheen on: