I was born and raised in Karachi, the city of lights with beachy vibes. I had a solid support system of friends and family there. Pursued my dream job in journalism. Then came the time to make a big move. Across continents. Across oceans. All the way from Karachi, Pakistan to Carmel, Indiana. Big change. America. Land of the free. My husband lived there. Hence, the move. What can I tell you about Carmel? It certainly wasn't the 'Carmel' of Indiana. Quite the opposite I'd say! Carmel was a tiny artsy town, where it snowed most of the year. The population at the time was 80,142. A sleepy town. The demographics were mostly retired white folks. Even though the town itself had many museums, art galleries, particularly The Palladium, a famous concert hall. But the truth is – it was right in the middle of cornfields. I was a little disappointed. I've always been a big city girl. Karachi got me used to that metropolitan, fast-paced city vibes. My idea of "America" was New York. I did move to New York impulsively back in 2009, I fell in love with this guy (read: husband). Oh well, that's a story for another day.
I had no family or friends in Carmel. My husband worked full-time. I started looking for jobs in journalism. I landed an opportunity with a local community newspaper Current in Carmel. The biggest highlight during my time there was the story I wrote on the Mayor of Carmel at the time, Jim Brainard. It was about Carmel's budget deficit. My gig there was part-time so I had a lot of time on my hands. I got into reading, cooking and running. The three things I loved the most at the time. I also watched A LOT of Food Network. My favorite show was Chopped. I was obsessed with it. I've been cooking since I was eleven but Chopped inspired me to think outside the box. It also motivated me to cook faster. I started timing myself in the kitchen and became super efficient, optimizing my cooking time. Chopped was my savior in Carmel. I also got into baking because of a couple of other popular shows Cake Boss and Cupcake Wars.
Just last week, I discovered my cousin, Moid Alwy's daughter and my niece, Kiran Alwy made it to Chopped Junior (Chopped Jr). Here is the

full episode

. I am so proud of her! Not giving away any spoilers but she's simply brilliant. I was truly amazed by her composure, quick thinking and positive attitude in the Chopped Kitchen. She had a big smile on her face and was enjoying every bit of it despite the pressure of it all. I can see her becoming a big chef one day! She's a Pakistani American, a second generation immigrant living in Saint Louis Park, Minnesota. Her dad, Moid, taught her traditional Pakistani dishes and how to work the kitchen when she was little. He inspired her to cook. This runs in their family by the way! Moid's mom and her sister (my aunts, in Urdu we call them khala) make the most delicious food and baked goodies. I have the best childhood memories indulging in their cooking. By making traditional, Pakistani dishes, Kiran gets to explore her father's roots.
I've met Kiran once three years ago when she was visiting Karachi for a cousin's wedding. She's unforgettable. One of those that make their presence felt. Her perky personality really popped, coupled with good humor and wit. I taught her a few dances I had choreographed for the wedding. She loved dancing along with me and was willing to learn! She enthusiastically told me me how much she loved Karachi, its culture, food and traditions. Maheen The Globe got a chance to interview her about her Chopped Jr experience, her love for cooking and future plans. Read below!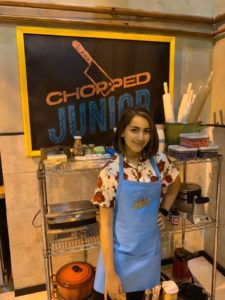 How old are you? Which grade are you in? Where were you born and raised?
Kiran: I am thirteen years old. I am in seventh grade. I was born in Chicago but raised in Minneapolis.
What inspired you to start cooking?
Kiran: My dad mostly inspired me to cook. He is a great chef and has taught me everything I know!
What are your specialties?
Kiran: I mostly cook savory food and within that I can cook fish well and any spicy dishes. My style is Asian American.
How did Chopped Jr happen?
Kiran: I applied to 'Chopped Jr.' on a whim and they must have liked my application and I did four interviews and they liked my personality and cooking style. So here I am!
Were you nervous? Did you practice lots? Tell us about some of your practice runs and the ingredients you used.
Kiran: I was extremely nervous! The whole experience felt like a dream. I practiced every day and did a practice round with my dad a couple of times. In the practice round with my dad, I got yogurt sauce, strip steak, mushrooms, and berry pie. I made a mushroom wine sauce with the berry pie filling and mushrooms and then marinated the steak in the yogurt sauce and seared it.
The most challenging part of Chopped is that there is always this one ingredient that is a curve ball, something nasty or odd. How did you navigate around that?
Kiran: Navigating around the curve ball ingredients was a matter of flavor profiles like, the ketchup soda – if you think of it as just soda or something sweet way more ideas pop in your head than just thinking of it as "ketchup soda".
What are your future plans? Do you plan on becoming a chef and pursuing cooking professionally?
Kiran: My short-term future plan is to apply for master chef junior and take it from there. The long-term plan is to become an owner of a Michelin star restaurant here in MN then move to France and become a culinary instructor. This is obviously a big plan and life throws curveballs at you just as 'Chopped', so I hope to end up where life puts me. Hopefully, it's a place where I love to live and work.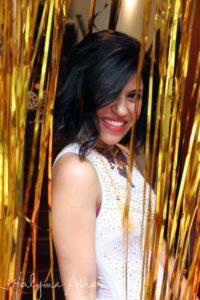 Maheen Mustafa is the writer of this article. She is the Editor-in-Chief/Founder of Maheen The Globe LLC, a Seattle-based, independent, woman-owned media company and online global magazine covering food, travel, coffee, health & education, global business, global culture (art, sport, film, fashion, music, dance). It also contains special features/editorials/interviews of celebrities, top global influencers, women-led small businesses with a special focus on moms, first generation and second generation immigrants and Pakistani Americans. Key topics: Mental and physical fitness and wellness, motherhood, postpartum depression, women empowerment, health, education and social justice. Regions covered: Local neighborhoods (Fremont, Ballard, Seattle downtown, West Seattle, So-Do), Nationwide (USA), Pakistan and worldwide. #globalperspective 
Follow Maheen on: