Dancing with the talented Korean filmmaker, script writer, screenwriter Sanghyun May Gottlieb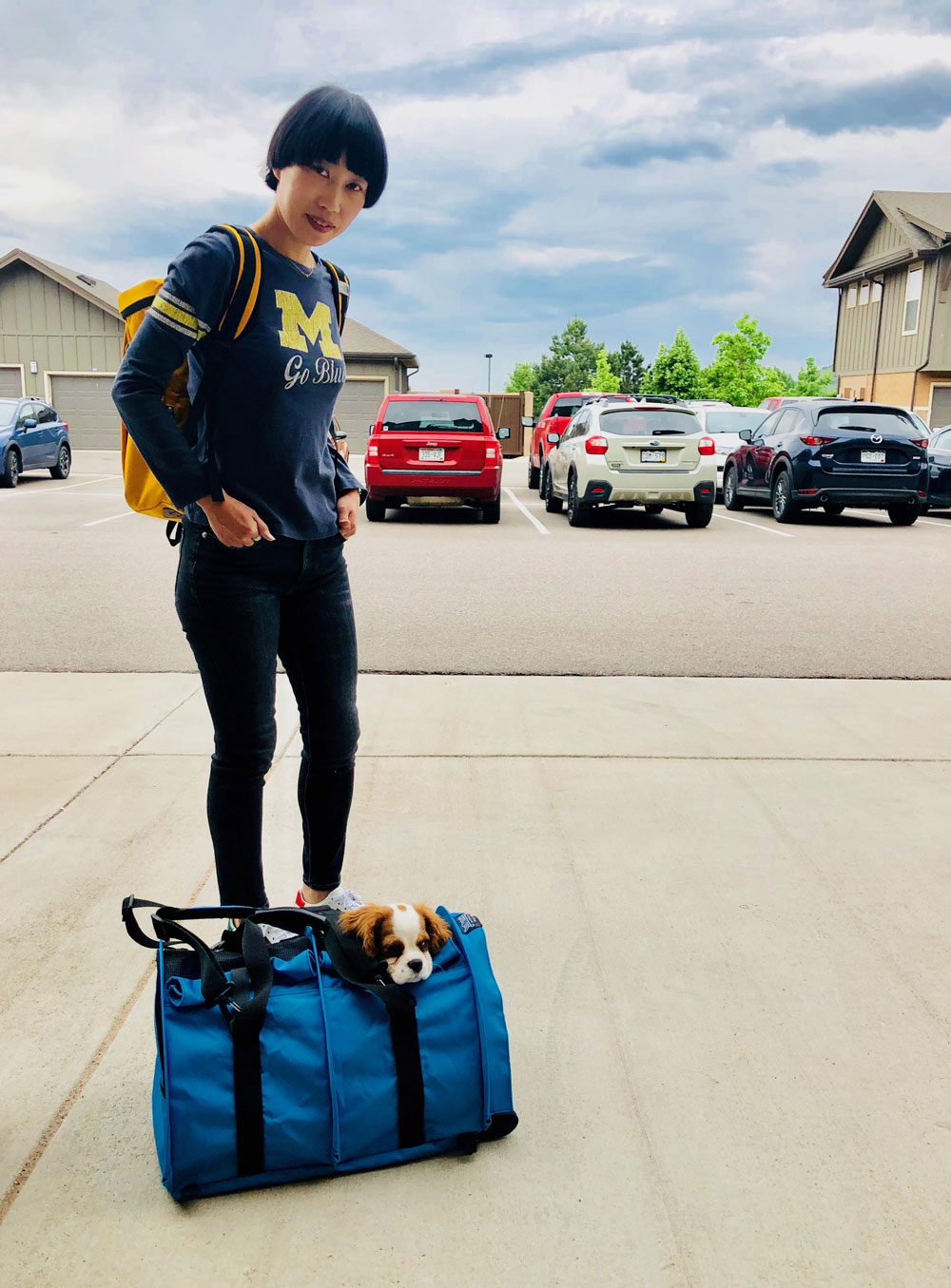 May was probably my very first dance friend at Studio 206. Although we danced for many years at Seattle Athletic Club downtown, we REALLY got to know each other when we started carpooling for Studio 206 classes. It's funny how the people you dance with are always a mystery to you. You don't know their background, career path, their journey, you just dance with them for a solid hour and bond with them in this universal language of dance and then you go your separate ways. It's quite powerful if you think about it. This act of dance and how it brings people together. I find it fascinating. May was always reserved, shy, an introvert of sorts. A lady of few words. But once we started talking during our carpool sessions, we started to get to know each other better. She is so witty, hilarious, and sarcastic. But most importantly, at least for me, she has been an incredible friend. She is sensitive and caring. No judgments. She's been there for me during some of my tough days in Seattle. It was never easy being a new mom. She was really there for me during those rough postpartum days, and I'll always love her and respect her for that. Here is her fascinating story – navigating through the American way of life with her Korean roots and  stories of her good ol' broadcasting days.
Tell us a little about broadcast background? Did you produce or direct short-film documentaries? Describe your work.
I worked as a scriptwriter in Korea at a major broadcasting company. As a scriptwriter, I was involved in many different genres of TV shows—including talk shows, documentaries, variety shows, quiz shows and more. I consider myself more as an expert in talk shows than the other types; not only was I most passionate about talk shows, but I also believe they were the best format for showcasing my talent at building relationships with the hottest celebrities of the time, and scripting great segments.
I also worked as an Assistant Director on the film 'Too Young To Die', which was groundbreaking in its story, leading it to be invited to Cannes Film Festival in 2002. My experience in filmmaking led me to study Feature Film Screenwriting at the University of London, where I earned my Master's degree, and wrote my masterpiece—a romantic comedy film script, 'Come back to me Lady', which I wrote in English and have not yet translated into Korean.
If you are curious about the film 'Too Young to Die', please watch it. It is available on Amazon Prime Video. Go Amazon!
https://images.app.goo.gl/RgWeJmkyYpWhMcVp8
How long have you been living in Seattle and what do you love the most about the city?
I have been living in Seattle for almost seven years. There are many things I love about the city. Seattle has green mountains, blue waters, fresh coffee, and diverse cuisines. I have built wonderful friendships here over these years. If I have to choose only one thing I love most about Seattle, I'd have to say Studio 206, where I go for dance.
I absolutely LOVE dancing with you. You are physically very fit. How long have you been dancing? What got you into dance?
It is very hard to say when I started to dance. I'm Korean. I grew up with K-pop! I guess I was dancing all the time, since I was born. From my college years until I married Jason, the love of my life, clubbing used to be my favorite activity (and means of working out). I even met Jason in a club: JJ Mahoney's at the Grand Hyatt Seoul (If you go to Seoul, you must check it out this place!).
Tell us a little about the cultural background of your family and describe your culture.
I am Korean. My family lives in Seoul. I was born in Seoul, and grew up there. In history, Korea used to be a super conservative country, and sons had more respect and power in their homes than daughters. A patriarchal society of sorts. However, culture has evolved. Nowadays, Korea is not very different from America in terms of how people think and act.
You also love to travel, share your favorite destinations.
I have traveled throughout most of Europe and Asia. I have loved every city and country I've visited, each for different reasons. It is hard to pick a few destinations that I like the most. If I had to pick one that I consider to be the most interesting, it would be Cappadocia in Turkey. It's like you've been transported to 'Alice in Wonderland'. I highly recommend the Turkish pizza restaurant around corner from express bus terminal.
You are a brilliant cook! You cooked up a storm for me once. Tell us when did you start cooking, and why you love to cook.
As the only child, watching and helping my mom cook was just something I did. Once, I surprised my neighbors by visiting every single one of their houses to give them pancakes I made from the scratch (I was too young to know it would have been much easier to simply use pancake powder). At that time, I was only nine years old.
While studying in London, I sometimes got intense cravings for Korean food. I think my real cooking started during this period.
I can say cooking is part of my meditation. It makes me calm and focused, while also growing my patience, but the biggest reason is that it allows me to eat what I want, whenever I want.
You are also a foodie, any favorite spots in Seattle you'd like to recommend?
While I don't generally love sweet things, I have a sweet spot for donuts. I'm no stranger to the General Porpoise vanilla custard donut, and don't think anyone else should be, either.
You live in downtown Seattle? For how long? Tell us a little about that area. Has it grown in recent years. What's your favorite spot to eat or drink there.
We have been living in downtown Seattle since we moved to Seattle in 2012. In the last seven years, the area around where we live has undergone an extreme makeover, evolving from a small collection of buildings into a thriving metropolis packed with bars, restaurants and high-rise buildings. There are Amazon buildings almost everywhere you look, along with Amazonians and their dogs (and a lot of dogs in general).
Daniel's Broiler's new location recently opened in the Hyatt Regency Hotel two blocks away from my home. That place has become a go-to for us; we're there often to eat burgers, drink cocktails and whiskey in their bar.
Tell us about your dog!
My dog's name is Dahnchoo, which mean 'button' in Korean. She is a year and half cavalier king charles spaniel, and has a button-like spot right in the center of the top of her head (hence her name). She is a very sweet dog, prefers sleeping with her dad vs. me, and loves playing fetch. Nowadays she is on a diet because she became a little chunky after eating too many treats.
Any nice dance motivation quotes you'd like to share.
"Dance is the hidden language of the soul."  Martha Graham